Bring Your Vision to Life with Leary's Landscaping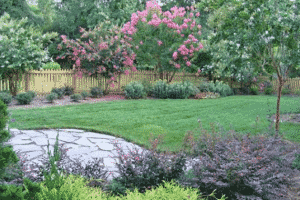 Your landscape is the perfect canvas to express your creativity. The pros at Leary's Landscaping can help bring your dream outdoor space to life by redesigning your landscape to complement your personal style and the architecture of your home. When in need of hardscaping or landscaping, Manahawkin NJ residents trust in Leary's Landscaping for their 20 years of experience with transforming outdoor environments.
Our services include landscape restoration, mulching, planting, trimming and pruning, drainage services, retaining wall construction, walkway and patio paving, stonework, and fencing. Whether you're looking for long-term landscaping care or you need help restoring your property after inclement weather, our expert team can help. Call 609-978-1392 today to discuss your landscaping goals.
Read on to learn more about our services:
Professional Landscaping in Manahawkin NJ
Before we begin your landscaping project, we will take the time to understand your aesthetic goals and create a detailed plan to help you achieve them. The most beautiful landscapes are those that convey the perfect balance of hardscaping and landscaping. After more than two decades in the industry, our team has a vast knowledge that allows us to design a captivating landscape that will make your home a more pleasant place to be.
Our landscaping services include:
Landscape restoration
Mulching
Planting
Garden beds
Sod installation
Trimming and pruning
Tree removal
Landscape lighting
Professional Hardscaping in Manahawkin NJ
Hardscaping involves the use of man-made structures, such as decorative patios, walkways, and retaining walls, in contrast with vegetation to enhance the look of your outdoor space. After our team understands your aesthetic goals, we will combine landscaping and hardscaping to develop a captivating theme that perfectly complements your personal style and your home's exterior.
Our hardscaping services include:
Retaining wall construction
Paver walkways, driveways, and patios
Stonework
Fire pits
Natural stone features
Water features
Fencing
Bring Your Vision to Life with Leary's Landscaping: Manahawkin NJ
When in need of landscaping, Manahawkin NJ turns to Leary's Landscaping for exceptional service and unparalleled knowledge. Call 609-978-1392 to discuss your landscaping and hardscaping goals.