The Expert's Approach to Landscape Design from Leary's Landscaping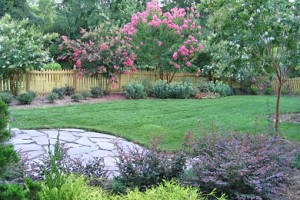 The pros at Leary's Landscaping specialize in designing comfortable and eye-catching outdoor living spaces. We are qualified to handle a wide range of landscaping and hardscaping projects. As a client of Leary's Landscaping, you will work directly with one of our expert designers, who will evaluate your property and goals, create a personalized plan, and help transform your dream outdoor oasis into a reality. When in need of landscape design, Beach Haven West residents trust in our team's 20 years of experience.
We are known for creative problem-solving and exceptional service quality. Call us today at 609-978-1392 to learn more.
Our Approach to Landscape Design
Whether you want a full landscape design or specific upgrades, the Leary's Landscaping process begins with a consultation. One of our designers will come to your home to inspect your property, listen to your goals, and make recommendations. From there, we will create a personalized plan to incorporate plants, hardscaping, and other elements to achieve your ultimate landscaping goals.
We know your time is valuable, and we will give our full attention to your landscaping project so you can enjoy your new outdoor space as soon as possible. We also strive to create outdoor environments that convey originality and timeless appeal, while appealing to your unique style and design preferences.
The best landscapes not only have a consistent and compelling design theme, but are also easy to maintain and complement the homeowner's personal tastes. Creating such a landscape requires experience and artistic prowess. Over the past 20 years, we have been fine-tuning our exterior design techniques, and we can help you choose the perfect landscaping and hardscaping elements to achieve your aesthetic goals.
Beautiful Landscape Design | Beach Haven West
We take a positive approach to challenging spaces, and we work closely with each client to create landscapes that are personal, functional, and cohesive with the surrounding environment. Our hardscaping and landscaping services include full landscape design, landscape restoration, mulching, planting, trimming and pruning, drainage services, paver patios and walkways, stone spreading, fencing, and much more. Call 609-978-1392 to get a free estimate, and to speak with an expert about your landscaping goals.