3 Questions to Ask Your LBI Contractors About Hardscaping and Stonework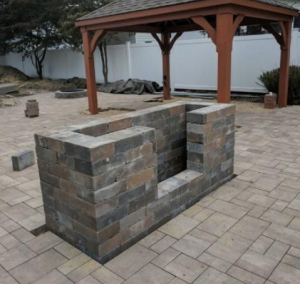 From sandy beaches to majestic waterways, the natural beauty of Long Beach Island offers plenty of inspiration for landscape designers. Although plants and other natural elements can certainly enhance the look of your property, nothing adds style to an outdoor space like the creative use of hardscaping. The LBI contractors at Leary's Landscaping can transform your landscape with stone walkways, driveways, patios, decorative steps, retaining walls, and other gorgeous hardscaping elements.
With more than 20 years of experience, our team has the knowledge and artistic prowess to make your dream outdoor space a reality. Call 609-978-1392 today to learn more.
3 Questions to Ask Before Hiring LBI Contractors for Hardscaping & Stonework
The last thing you want to do is hire a hardscaping contractor who doesn't have the experience or equipment to produce the results you desire. After all, you'll have to look at your landscape every day, and a botched or damaged walkway, driveway, or patio will be an eyesore until it's replaced—which can be expensive.
Over the past 20 years, the LBI contractors at Leary's Landscaping have been fine-tuning their exterior design techniques. We can provide hardscaping recommendations that will work cohesively with your existing landscape, and our goal is always to beat customers' expectations.
If you're searching for hardscaping contractors on Long Beach Island, it's important that you take the time to evaluate your options carefully. Asking the following three questions will help you discern whether a particular contractor would be a smart hire:
Have You Handled Hardscaping Projects That Are Similar to Mine?
Just because a contractor knows how to pave a driveway doesn't mean he or she can design decorative steps or a creative patio. Explain your hardscaping goals in detail, and ask the contractor about similar projects he or she has handled.
Can I See Pictures of Your Past Work?
A portfolio of the contractor's past work will give you a good idea of what you can expect the final outcome to look like. To view photos of our recent hardscaping projects, click here.
Do You Have Any Hardscaping Recommendations for My Property?
A talented hardscaping contractor should be able to provide personalized recommendations based on the look and layout of your outdoor space. The LBI contractors at Leary's Landscaping have experience working with a wide range of stonework and hardscaping elements, and we can provide suggestions that would enhance the aesthetic of your property while working well with your existing landscape.
Choose the Expert LBI Contractors at Leary's Landscaping
If you'd like to upgrade your outdoor space with hardscaping, contact Leary's Landscaping. Call 609-978-1392 to speak with one of our LBI contractors.