Choose Leary's Landscaping for Expert Landscape Design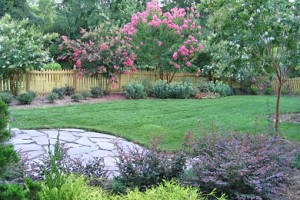 The look of your outdoor space can have a huge impact on your day-to-day wellbeing. Whether you prefer a natural aesthetic with lush gardens or a more modern design with decorative hardscaping, the professionals at Leary's Landscaping will deliver. When searching for landscape design, Stafford NJ residents know that our team has the experience to complete all projects, big or small.
We can help you express your creative side and give you a few tips to make your dream outdoor space a reality. Call 609-978-1392 to schedule a landscape assessment.
Which Landscape Design Techniques Are Right for My Home?
At Leary's Landscaping, we believe that each landscape should be just as unique as each home and the people within them. That's why we will leave no stone unturned when choosing the best exterior design techniques for your property.
We can help you modify a few elements of your existing landscape, or we can create a complete landscape redesign plan, personalized for your property and your vision.
Hardscaping & Landscape Design in Stafford NJ
The most attractive outdoor spaces blend hardscaping and landscaping around a central theme. While landscaping involves the use of natural features, such as trees and shrubs, to make a property more attractive, hardscaping involves man-made fixtures such as decorative patios, retaining walls, stonework, and statues.
Our team specializes in a wide range of hardscaping and landscaping techniques. If you have questions about our hardscaping or landscaping services, call us today at 609-978-1392.
After we evaluate your property, we'll use our experience in exterior design to create a plan to enhance your outdoor space using one or more of the following:
Landscape beds
Garden beds
Planting
Tree, shrub, and flower planting
Natural stonework
Firepits
Landscape lighting
Drainage
Water features
Curbstone and borders
Sod installation
Retaining walls
Paver driveways, walkways, and patios
Leary's Landscaping: Landscape Design, Stafford NJ
When in need of professional landscaping, Stafford NJ dwellers know that Leary's Landscaping will transform their outdoor spaces in ways they never thought possible. Schedule a landscape assessment today by calling 609-978-1392.